Trelleborg Launches Film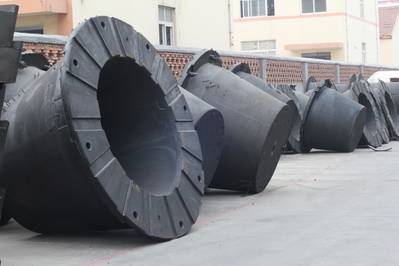 Trelleborg Marine Systems has launched a new film aimed at educating industry stakeholders about the significance of the in-house design engineering and manufacturing capabilities of fendering, docking and mooring suppliers, illustrating the importance of using quality materials right through the supply chain.
The film underlines why in demanding environments, reliable service and equipment are essential, detailing the entire fendering, docking and mooring production process, from conceptual design through to production, quality control, testing and after sales care. It aims at illustrating to port owners, operators and contractors how they can make certain they are procuring quality throughout the supply chain.
Richard Hepworth, Managing Director of Trelleborg Marine Systems, says: "Increasing vessel sizes, a broader variety of ships and the prevalence of specialised projects are leading to ever more complex demands on port infrastructure. Port and terminal owners and operators, consultants and contractors, are under severe pressure to accommodate these considerations, whilst reducing downtime, improving accountability and ensuring that marine environments are safe and operationally efficient. Using a reliable manufacturer, such as Trelleborg, that has its own in-house engineering resources, is key to meeting demands."

Trelleborg have also launched a Rubber Testing Whitepaper to help decision makers understand the differences in quality between rubber compounds and how they can affect fender performance.

To view Trelleborg's End to End film, visit https://www.youtube.com/watch?v=f5bZlp1qiL8

To download Trelleborg's Rubber Testing Whitepaper, visit http://media.iasb2b.com/trelleborg/20045_endtoend/Rubber_whitepaper.pdf