USCG Sets Port Status Whiskey for Tropical Storm Arthur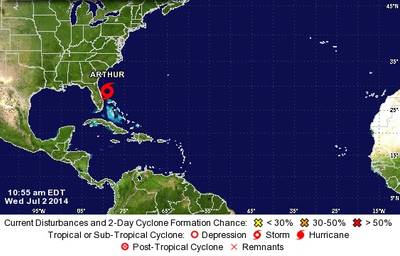 The U.S. Coast Guard (USCG) Sector North Carolina port Captain has set the Port Condition Whiskey for all navigable waterways in North Carolina in preparation for the anticipated weather impact of tropical storm Arthur.

Port Status Whiskey is normally set when gale force winds from a hurricane force storm are expected to arrive at the port within 72 hours.

The USCG expects winds between 39 and 54 mph to reach Frying Pan Shoals Lighted Buoy 16 within 72 hours, and boaters are advised to seek safe harbor.

All vessels are advised to use caution when transiting the area. Vessels at anchor or moorings should prepare for heavy weather accordingly.

Mariners are also advised that drawbridges will remain closed when wind speeds are 39 mph or greater or once evacuations begin.

Due to the uncertainty of weather movements and related bridge closures, mariners are urged to pass through drawbridges before the arrival of gale force winds.