ABB Open New RDS Oceanwide Troubleshooting Control Center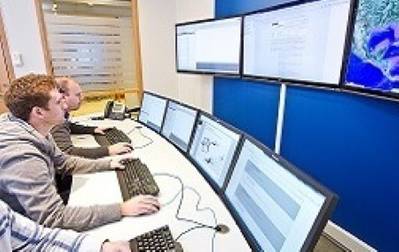 Born five years ago, ABB's remote diagnostics service (RDS) is still in its infancy. But this brainchild of service technology is growing fast – and its future looks bright.

The quality of ABB's marine after sales service is stepping up a notch with the opening of a new control center in Norway and the addition of remote diagnostics service (RDS) connections fitted to vessels in shipyards.

Systems specialists are available from a control center just outside Oslo to troubleshoot faults in electrical installations onboard ships anywhere in the world. And for those customers who have signed up for 24/7 RDS, engineers are on call around the clock to offer support.

RDS is one in a range of ABB's global remote solutions available to help with continuous monitoring and periodic maintenance. With the data that has already been collected, engineers are developing the capability to tell owners how to improve their operations, increase their vessel's availability and reduce their maintenance costs.

Currently 38 vessels are connected to RDS. From this year, the service is offered on all new builds delivered from South Korea and Singapore, covering the entire ABB package on board.

Case study:
A LNG tanker, of over 100,000 dwt, sailing from Singapore to Cape Town faced an unexpected trip in the starboard medium-voltage (MV) frequency converter causing an immediate loss of 50 percent of the propulsion. The giant vessel did not lose any of its safety-critical maneuvering capability, but needed to reduce its speed significantly. Slower sailing means longer time to destination, which directly results in higher operational costs and since part of the system's redundancy is lost, safety margins are reduced.

In a typical case, this would lead to sailing with reduced speed for at least several days, until a qualified service engineer could arrive on board in Cape Town. However, with the RDS system on board and an agreement with ABB to deliver remote assistance, the entire troubleshooting process took about two hours from the first call until the entire propulsion system was back in operation.