Tru-Design Wins Dutch 2009 HISWA Award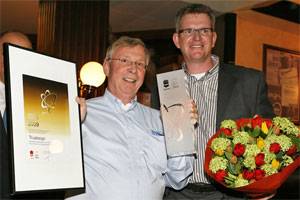 New Zealand based marine manufacturer Tru-Design Plastics has won the HISWA Innovation Award 2009 for its position-monitored ball valve range.

HISWA, the Dutch marine association, represents the gamut of water sport businesses in The Netherlands and is associated with promoting highest standards of safety, quality and environmental friendliness. The annual HISWA innovation award is designed to encourage and showcase state-of-the-art consumer products. A jury of distinguished representatives of the Dutch marine field, including designers, editors, and university professors assess products for specific attributes: the winning product must be of importance to consumers and currently available for purchase, and it will demonstrate innovation, wide applicability and affordability.

The Tru-Design position-monitored ball valve won out of 60 entries this year. Sensors fitted to the valves which can be connected to a monitor, enable remote indication of the current position of a valve – open or closed. According to managing director Alan Maddox the company developed the position-monitored ball valves in response to "the need to provide skippers clear visibility of the status of all seacocks from the bridge or control panel – such as engine cooling intakes for both starboard and port engines, or gensets. Another application is for holding tank outlet monitoring. A computerized monitoring system can check the valve status and inhibit the discharge function operating if the valve is closed or the boat not in an approved area. Alternatively, the skipper can simply check the status of the discharge seacock from the control panel before allowing release of contents".

The valves can also be wired to disable the engine start sequence if the seacock is closed, thus helping to avoid possible engine overheating caused by accidental or inadvertent water intake closure. The valves can in fact be used for a variety of applications as they come in five different sizes.

Designed to be high strength yet light weight, "The Ball Valves meet ISO 9093-2-2002 and are moulded out of glass reinforced polymer - this technology offers benefits over conventional bronze or brass seacocks that suffer from unseen electrolysis risks," said Maddox.