LM2500 Gas Turbines for USN New DDG 51 Restart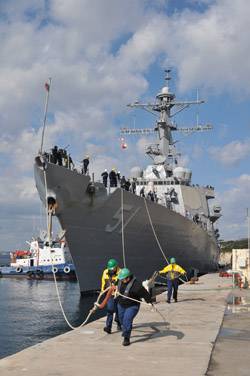 GE Marine delivered eight LM2500 aeroderivative marine gas turbines that will power the United States Navy's DDG 113 and DDG 115 destroyers, in the DDG 51 restart program. Commencing with this program, the U.S. Navy has adopted GE's recommended LM2500 common engine initiative. "The U.S. Navy's adoption of the LM2500 common engine program allows GE to leverage the LM2500 industrial volume to control cost, and improve manufacturing and durability, as well as spare parts lead times, in support of U.S. Navy fleet," said Brien Bolsinger, GE Marine general manager. Common engine improvements will include parts upgrade of the LM2500 compressor rotor, the turbine mid-frame, the compressor rear frame and the power turbine. These changes are contained within the gas turbine, so as to not impact ship interfaces or on-ship maintenance activities.
The common engine includes more robust configurations, continuing the LM2500 tradition of improving marine gas turbines based on industrial fleet leader experience. Since the typical LM2500 industrial engine operates more than 8,000 hours per year, and the high time engines have operated over 200,000 hours, GE is able to introduce product improvements to marine configurations before related issues are encountered in military service. "The new configuration has been recertified to U.S. Navy Mil 901D shock, and we expect to introduce the common engine program to international naval customers over the next several years," Bolsinger added.
Four LM2500 gas turbines for the DDG 113 were delivered in late 2011. GE completed delivery of four additional LM2500s for the DDG 115 in February 2012. The gas turbines were manufactured at GE's Evendale, Ohio, facility.