Turbocharger Retrofits for Royal Caribbean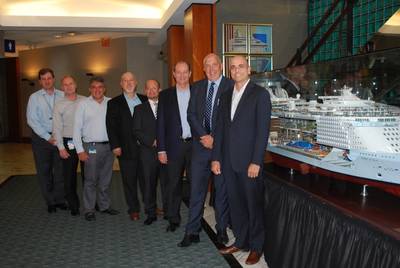 MAN PrimeServ informs it has won the contract from Royal Caribbean Cruises Ltd. (RCCL) to retrofit the turbochargers aboard four cruise liners from its fleet.
The contract covers the retrofit of a total of 30 turbochargers aboard four vessels – two operated by
Royal Caribbean International
, and two operated by Pullmantur, a wholly-owned RCCL subsidiary, along with attachment kits and technical support. The vessels Grandeur of the Seas and Enchantment of the Seas – both equipped with four x 12V48/60 MAN engines – will be retrofitted with 16 x TCA55 turbochargers, while the vessels Horizon and Zenith – both equipped with two × 9L40/54B and five × 6L40/54B engines – will be retrofitted with four × NA40/S and 10 × NA34/S turbochargers.
Speaking at RCCL headquarters in Miami,
Wayne Jones
, Senior Vice President and Head of MAN PrimeServ Diesel, called the project an "investment in sustainability", stating the turbocharger upgrade will boost engine performance, extend engine life and support operations from a technical and cost perspective.
Installation of the first retrofit will take place aboard Enchantment of the Seas in December 2015 during its regular sailing schedule between Florida and the
Bahamas
. Each installation will take approximately 10 days per engine.
The project has been and will be handled from MAN PrimeServ Turbocharger HQ in Augsburg, in collaboration with the local MAN PrimeServ Diesel team in Fort Lauderdale.