Dramatic Turn-Around in COSCO's Q1 2014 Finances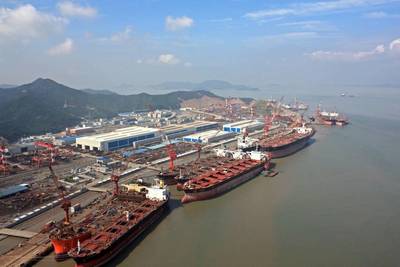 Offshore marine engineering, shipbuilding, ship repair & conversion and dry bulk shipping group, COSCO Corporation (Singapore) reports a Q1 2014 gross profit increase increase Y/Y of 21.8%.
Group turnover increased 41.8% to $1.04 billion in Q1 2014 from $733.0 million in Q1 2013 on the back of increase in shipyard revenue.
Turnover from shipyard operations increased by 43.2% to $1.03 billion from $719.2 million in Q1 2013, supported by higher revenue contribution from ship repair and marine engineering which more than offset the decline in revenue from ship building.
Gross profit increased 21.8% from $78.6 million in Q1 2013 to $95.7 million in Q1 2014 mainly due to higher profit contributions from dry bulk shipping and shipyard operations. Other income which comprised gain from the disposal of scrap metal, interest income, net currency exchange gain/(loss) and others increased 87.8% to $20.5 million in Q1 2014 mainly due to higher interest income.

The Group successfully delivered 3 bulk carriers, 1 livestock carrier, 1 tender rig, 1 pipelay heavy lift vessel and 1 wind turbine installation vessel in Q1 2014.

Captain Wu Zi Heng, Vice Chairman and President of the Company said, "The Group will persevere in improving core competency and productivity. We will continue to focus on moving up the value chain and increasing efficiencies in our drive for growth in this challenging environment."

As at 31, March 2014, the Group's order book stood at US$ 7.6 billion with progressive deliveries up to 2016. This order book is subject to revision from any new or cancellation of orders that may arise.