Ulstein to Build PSVs for Remøy Shipping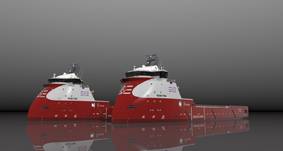 Remøy Shipping has signed a contract with Ulstein Verft for two eco-friendly platform supply vessels (PSV) of ULSTEIN PX105 type designed by Ulstein Design with future oriented products and systems from Ulstein Elektro. The vessels are already set for long-term contracts with StatoilHydro upon completion. The vessels will be delivered in February and May 2011.
A large number of the details in the newly developed ULSTEIN PX105 design are according to requirement specifications from StatoilHydro.
The ULSTEIN PX105 design is 88.8 metres long and 19 metres wide, with a total output of 7600 eKW. The DP II vessels are also classified for standby rescue for 250 persons and have accommodations for a crew of 24. The vessels will be equipped after the Ulstein Accommodation Standard and will have sophisticated technology from Ulstein Elektro – such as ULSTEIN IAS, the new IP-based ULSTEIN COM system and ULSTEIN NAV.