C-Tecnics Donates Harnesses to Underwater Center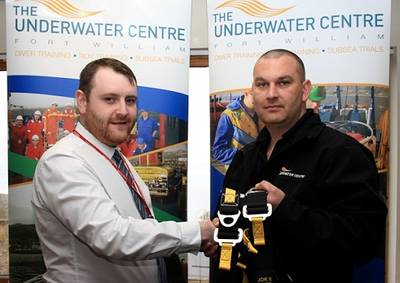 U.K.-based underwater technology manufacturer, C-Tecnics, gifted a number of its industry standard diver recovery harnesses to subsea training facility, The Underwater Center.

C-Tecnics, of Aberdeen, is donating a number of its CE-approved JOK Diver Recovery Harnesses to The Underwater Center in Fort William to aid divers' education and competence, by using up-to-date equipment such as the harnesses and ensuring their training experience is as practically accurate and realistic as possible.

The JOK Diver Recovery Harness was designed with the intention of producing a high quality product which could compete as a leader in its field.

The harness is required to hold the weight of a fully kitted diver, which can be up to 150kg. Vigorous testing methods certified by Life Support Engineering (LSE) included load tests of up to 900kg, which the JOK Harness successfully completed with no damage to the stitching or webbing.

C-Tecnics' harness is tailored with fittings including easily identifiable certified lifting points and a more comfortable and improved secure fit.

During the development stage, research was carried out with top industry professionals, as well as an arranged seminar which included divers from a range of different companies. Their feedback provided the design team with solid knowledge allowing them to improve and supersede existing designs.