Underwater Stern Tube Seal Repairs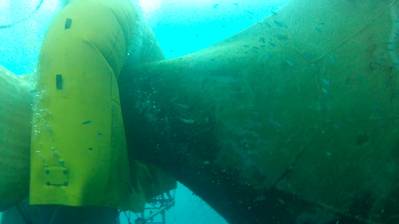 Hydrex has carried out on-site, underwater repairs and replacements on all types of seals for a number of years now.
A dry environment is created underwater in which the divers can work. Several major classification societies have also awarded Hydrex certificates that accept the Hydrex revolutionary flexible mobdock technique to perform permanent underwater seal repairs which previously would have had to be done in drydock.


Every Hydrex office has a fast response center equipped with all the latest facilities, equipment and tools. These centers were designed specifically to increase speed of service. The lightweight flexible mobdocks packed in flight containers allow for a very fast mobilization and a timely arrival of Hydrex teams on any location around the world with everything they need to successfully complete the job.


Hydrex constantly invests in the research necessary to continue to evolve repair techniques and procedures. Over the years the Hydrex R&D department has constantly improved the flexible mobdock (mobile mini drydock) technique to make it possible for Hydrex diver/technicians to perform permanent repairs on seals, thrusters and any other part of the underwater vessel without the vessel needing to go to drydock. The latest generation of flexible mobdocks allows Hydrex to carry out on-site replacement of virtually any type of stern tube seals very quickly.