Underwater Technology: MacArtney Re-defines the Working Lunch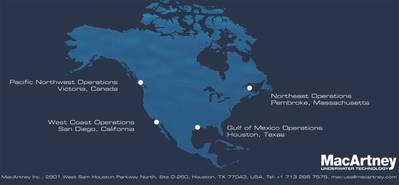 MacArtney Pacific Northwest & West Coast Operations to host 'Lunch and Learn' knowledge sharing & networking events.
The two lunches will be in March 2013, in recognition of the recent opening of the company's new offices in the US West Coast and Pacific Northwest areas.

As the main attraction of the events, MacArtney's Technical Director, Steen Worsøe, will be flown in from the MacArtney Group headquarters in Denmark. Mr. Worsøe will give a presentation on 'Cathodic Delamination' – the invisible 'killer' of rubber moulded connectors, hereunder outlining how one can identify, understand and prevent this detrimental phenomenon.
MacArtney Inc. has long pursued a proactive expansion strategy in the US. Since the taking over of nationwide SubConn® sales through the Northeast operations in Pembroke, Massachusetts, MacArtney Pacific Northwest Operations has opened up in Victoria, Canada - to strengthen MacArtney's relationship with underwater technology customers, especially OEMs and the renewable energy industry located within the area.
Moreover, in San Diego, California, MacArtney West Coast Operations has been inaugurated to serve the subsea requirements of local OEM, offshore, ocean science and defence clients.

The new offices complete MacArtney's coast-to-coast coverage of the US underwater technology market and provide an increased sales base, with access to larger stock, capacity and even faster delivery for local MacArtney and SubConn® customers.