Robert Gordon University Honors Dr. Hayward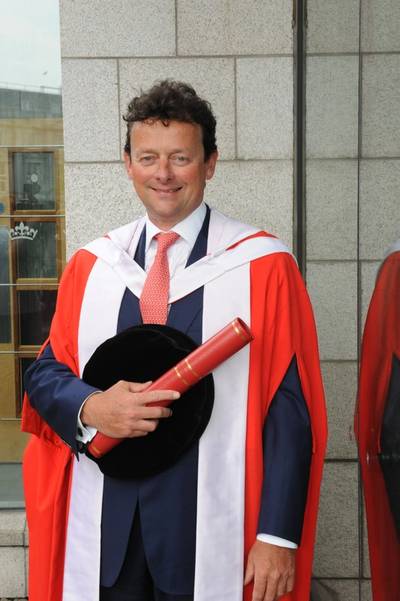 Dr Tony Hayward has been awarded the honorary degree of Doctor of Technology (Hon DTech) by Robert Gordon University, Aberdeen.


Tony Hayward is the Chief Executive of Genel Energy plc, an Anglo-Turkish exploration and production company with world-class oil and gas assets in the Kurdistan region. He is Chairman of CompactGTL and Interim Chairman of GlencoreXsastra; a Partner and Member of the Advisory Board of AEA Capital and a Member of the Advisory Board of Numis Corporation. He has also served on the boards of TNK-BP, Corus, and Tata Steel.


Tony, who was presented with the honorary award on Friday, July 12, was born in Slough, Buckinghamshire, and is the oldest of seven children. He chose to study Geology at Aston University in Birmingham, and after gaining a First Class degree, moved to Edinburgh to read for a PhD in the Edinburgh School of Geosciences.


In 1982, shortly after his graduation, he joined BP as a rig geologist in Aberdeen. During his early career with BP Tony quickly rose through a variety of technical and commercial roles in Europe, Asia and South America. He returned to London in 1997 as Group Vice-President for Exploration and Production and became a member of the Upstream Executive Committee in 1999. In 2000 he became Group Treasurer, and CEO Exploration and Production in 2003.


In 2007 Tony was appointed to Group Chief Executive of BP. He left BP in 2010 following the Gulf of Mexico oil spill and co-founded Vallares PLC. By June 2011 Vallares had raised in excess of $2bn to create a new oil and gas company.


In September 2011, Vallares merged with the privately owned Turkish oil firm Genel to create Genel Energy. The company has assets in Iraq and Kurdistan and has recently expanded its activities into Africa. In late 2012 the company made two new, significant discoveries in Northern Iraq and is now valued at some $5bn.