Teachers Learn about Marine Industry, Old Dominion University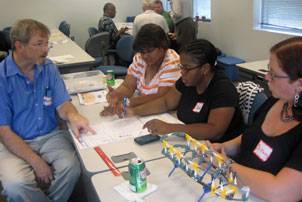 Dr. Alok Verma, Director of Lean Institute at Old Dominion University organized two workshops for middle school and high school teachers under a project funded by the Society for Naval Architects and Marine Engineers (SNAME). It was conducted on August 5, 2010 for Newport News school system teachers in Newport News, Va. A similar workshop was conducted for Southside school system teachers in Hampton, Va. on August 23, 2010. Thirty teachers from various school systems in Hampton Roads, Va. participated in this workshop.

Day one of the two-day workshop was devoted to Marine Kits Activities, whereas day two was focused on Sea Perch Underwater Robot. The Marine Kits incorporate project based learning related to shipbuilding and maritime industry. Sea Perch is a simple, remotely operated underwater vehicle (ROV), made from PVC pipe and other inexpensive, easily available materials. Participants learned about engineering and science behind underwater robots.

Dr. Alok Verma welcomed teachers on the first day and gave them a brief introduction about the Marine Tech Project. Teachers started with Marine Kit Activity 1 – Shipyard Operations: In this activity they learned about components of a ship, operations within a shipyard, methods of ship construction, and ship design calculations. Marine Kit Activity 2 – Ship Construction: involved basic ship terminology, fundamentals of ship Construction, cost estimation & supply chain integration. Marine Kit Activity 3 – Ship Stability: Taught them about center of buoyancy, application of Archimede's principle to find weight and volume of displaced water. Marine Kit Activity 4 – Ship Disaster Investigation: Teachers learned about safety at sea. They solved different ship disaster cases and found out reasons behind the disasters. In this module teachers learned about the best practices followed during ship construction, design and maritime operations. Teachers built Sea Perch in the afternoon session and worked on two units. Unit 1 – Frame Construction, and Unit 2 – Thruster Assembly.

Day two started with the completion of Unit 2 – followed by Unit 3 – Communication Control Box. After final assembly teachers tested Sea Perch in a tank for neutral buoyancy and all the designed motions. At the end of the workshop teachers filled out evaluation forms and received a kit of Sea Perch robot to take it back to their schools. During spring 2011, participating teachers will bring a team of students to compete in a Sea Perch competition to be held at Old Dominion University.