K-Sim Engine Chosen for Malaysia's Defense University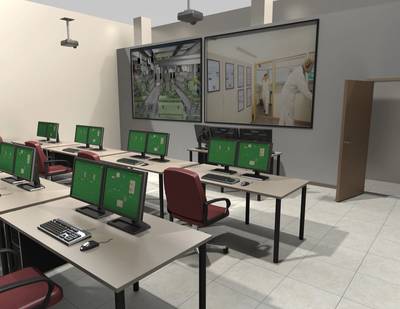 The National Defense University of Malaysia has selected Kongsberg Maritime's Engine Room Simulator platform K-Sim Engine for its facility in Kuala Lumpur.

The contract, Signed in April 2015, was won with support from Kongsberg Maritime's local sales representatives, Kelana Stabil (M) Sdn Bhd and civil contracting partner HJS Maritime Sdn Bhd. It comes just five months after the installation of a K-Sim Polaris ship's bridge simulator by Kongsberg Maritime at the University. K-Sim Engine and K-Sim Polaris will be integrated to support engineer specific and CRM (Crew Resource Management) training for the National Defense University of Malaysia.

The new delivery will consist of 20 K-Sim Engine desktop simulators connected to an interactive 'BigView' system, which displays model process diagrams on large HD monitors including 3D pop-up display for vital parts of the engine room. Integrated with the K-Sim Polaris simulator, which features four bridges and 20 desktop simulators for Radar/ECDIS training, the University's simulation facility will provide full vessel training (CRM) for Navy crew. With CRM, actions on the bridge simulator affect the engine room simulator and vice versa as in real-life, giving crews a much stronger understanding of vessel operations and operational communication.

K-Sim Engine supports basic and advanced operational training, covering everything from getting underway and operation of auxiliary boiler and cargo turbines to teaching how to deal with abnormal situations and serious problems. The system may also be used for economy and optimization studies, which supports optimal vessel performance. In addition to highly detailed, physically accurate engine models, a key aspect of K-Sim Engine is its advanced instructor system, which gives full control of all simulator parameters before and during an exercise, in addition to in-depth monitoring and review functionality.