USS Ponce Crew Honored, Command Pins Unveiled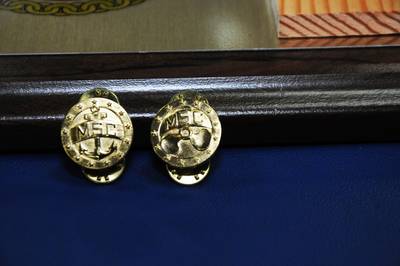 Rear Adm. Mark H. Buzby, commander, Military Sealift Command, honored 89 members of USS Ponce's crew, presents new in-command pins.

The ceremony held aboard Ponce, underway in the Arabian Sea, highlighting accomplishments associated with bringing Ponce into service and on station.

Current and past members of Ponce's combined crew of MSC civil service mariners and U.S. Navy Sailors were recognized with a variety of awards and commendations recognizing their efforts to make the Navy's first Afloat Forward Staging Base (Interim) an operational reality.

"The capabilities you brought - folks on the other side of the street are taking note of the capability you brought in," said Buzby. "We read it in Washington all the time. You've done things that have never been done before. You're also setting the pace for the follow-on version of this ship, still being built. This old girl's got a ways to steam and a lot of love for you to put into her."

Buzby also unveiled a new MSC civil service mariner command-at-sea and chief engineer-at-sea pin during an Oct. 7 awards ceremony onboard USS Ponce (AFSB(I) 15) underway in the Arabian Sea. He presented the pins - designed to mirror the U.S. Navy's active duty command-at-sea pins worn by those who command Navy ships and aircraft squadrons – to Capt. Timothy Lockwood, Ponce's civil service master, and CIVMAR Chief Engineer Blaine Darling.

"One of the things I've been trying to do in my time at MSC is to provide a means to recognize folks for the hard work and prestige that go with being the master and chief engineer," said Buzby. "In the Navy, commanding officers wear a command at sea pin, the star image establishing their authority as commander. I've instituted such a device at MSC for masters and chief engineers."