Austal Unveils LNG Report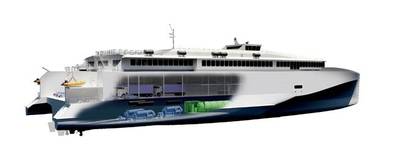 Austal has unveiled its study on the application of liquefied natural gas (LNG) as a fuel for several types of ferries, as an alternative to traditional fuel options in medium and high speed vessels.

Austal's success is centred on the design and construction of vessels which are customised to the operator's particular route requirements, and believes that being in a position to build ferries with LNG capabilities will provide operators with greater choice and flexibility in times of increasing environmental regulations.

Austal Technical Manager, James Bennett, commented that Austal has been researching new ferry platforms that combine the advantages of light weight aluminium construction with LNG.Mr Bennett has drafted a report on the application of LNG as a fuel for medium and high speed ferries, which can be downloaded at the company website at www.austal.com.
Source: Austal