Update on Deepwater Horizon Catastrophe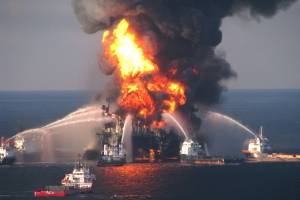 At a press conference on the afternoon of April 22, the Deepwater Horizon was confirmed sunk following an explosion on the MODU at approximately 10:00 p.m. April 20. RADM Landry, Commander of the 8th Coast Guard District said the 11 missing persons may have been in the vicinity of the explosion and as time goes on the probability of finding them decreases. However, she said, current conditions are favorable for water survival. A representative of Transocean said that nine of the missing are Transocean employees and two are employees of partner companies.

A one by five mile sheen has been observed on the water's surface, however it is believed to be residual from the explosion. No crude oil flow from the well has been documented yet. The Coast Guard has an ROV operating under the surface to determine the condition of the well. The location of the sunken rig is also currently unknown, but the ROV will also be used to determine its whereabouts.
A Transocean representative said that at the time of the explosion, "we were plugging and abandoning the drilling rig. BP would have brought it on stream at some point. The rig was not actually moving. … The plan was to tie it back to some existing infrastructure."

A BP representative said five deepwater open ocean recovery vessels are on location and more are underway.

Deputy Secretary of the Dept. of the Interior, David Hayes, said a unified command structure is being set up in New Orleans to deal with the incident. He said current priorities are the families of the missing and the environmental response. "This platform was inspected as recently as a couple of weeks before the incident," he said. "What's more important now is what's going on beneath the service … Can we stop the flow of oil?"

BP and Transocean representatives said it is too early to estimate how much a potential spill could be, but there is certainly the potential for a major spill.

According to a recent Coast Guard press release, 126 people were on board the MODU at the time of the explosion. One-hundred-fifteen crewmembers have been accounted for. Of those accounted for:
• 17 crewmembers were medevaced from the scene
• 94 crewmembers are being transferred to shore at Port Fourchon aboard the Damien Baxton, an offshore supply vessel. There are no major injuries reported for these members.
• Four crewmembers have been transferred to another vessel
Coast Guard is actively searching for all unaccounted for personnel and have the following units responding:
Air Station New Orleans:
* Two HH-65C Dolphin rescue helicopters and crews

Aviation Training Center, Mobile, Ala.:
* One HH-60 rescue helicopter and crew
* One HC-144 Ocean Sentry rescue plane and crew

In addition, the Coast Guard cutters Pompano, Zephyr, Razorbill and Cobia are on scene.

The Coast Guard is establishing a safety zone. Mariners will not be allowed into this zone without Coast Guard approval, as the zone will be in place to minimize the risk to other mariners and protect the safety of first responders. Additionally, airspace restrictions include a five nautical mile radius around the Deepwater Horizon MODU and 4,000 feet elevation.

Video can be found at the following link: http://cgvi.uscg.mil/media/main.php?g2_itemId=46