U.S. Coast Guard Assists Haitian Coast Guard Stop Illegal Migrant Voyage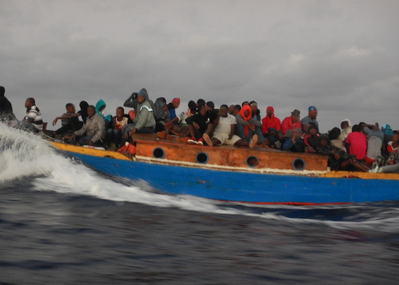 The U.S. Coast Guard assisted the Haitian Coast Guard stop approximately 70 Haitian migrants Sunday approximately 26 miles north of Cap Haïtien, Haiti.
At approximately 1:30 a.m., the Coast Guard Cutter Vigilant (WMEC-617) crew sighted a roughly 40-foot Haitian freighter. The cutter Vigilant crew launched a smallboat crew to question the people aboard. Upon detection, the freighter changed course back south to Haiti. The cutter Vigilant crew continued to shadow the vessel while Coast Guard 7th District watchstanders contacted the Haitian Coast Guard. A Haitian Coast Guard marine unit arrived on scene at approximately 9:30 a.m. and relieved the cutter Vigilant crew.
"This case highlights a critical component to the success of curbing illegal immigration in the Caribbean and that is of our international partners, and in this case specifically, the Haitian Coast Guard," said Capt. Aldante Vinciguerra, chief of response for the Coast Guard's 7th District. "The close cooperation between both U.S. Coast Guard and Haitian Coast Guard operational teams in this instance helped prevent a dangerous and ill-advised illegal migrant voyage from potentially capsizing and ending tragically as we unfortunately have seen happen recently. The U.S. Coast Guard has maintained a continual presence in the Florida straits and Caribbean basin and will continue to do so to detect, deter, and stop these illegal and unsafe voyages."