U.S.-Built Toyotas shipped to Russia, Ukraine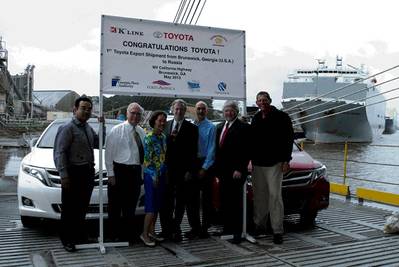 The K Line vessel California Highway set sail for Russia and Ukraine carrying the first Toyota Venzas exported through the Port of Brunswick, Ga.

The new Toyota Venzas are produced at the company's Georgetown, Ky., plant, which employs about 6,600 people and represents a $6 billion investment. The Georgetown plant is the company's largest manufacturing facility outside of Japan.

The Port of Brunswick's Colonel's Island Terminal is the nation's third busiest autoport, handling 612,489 auto and machinery units in calendar year 2012. The port features four other auto processors in addition to IAP.

Through March of the current fiscal year, Brunswick has handled 458,061 units of auto and machinery cargo, an increase of 18% over the 388,061 handled over the same period in the previous fiscal year.

The Port of Brunswick handles approximately 10% of all U.S. roll-on/roll-off trade, and 12% of U.S. Ro/Ro imports. The port ranks third in the nation for auto and machinery trade, serving nearly two dozen domestic and foreign carmakers, as well as heavy equipment producers.