Keppel FELS Wins US$265-million Ensco Jack-up Contract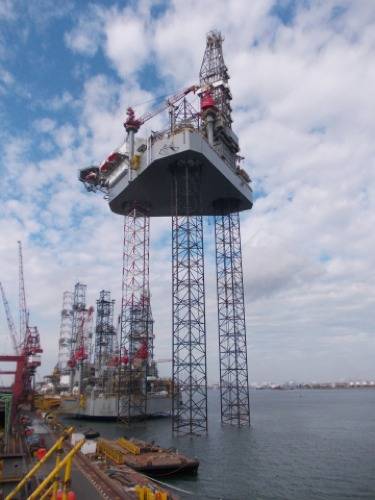 Scheduled for delivery in 2Q 2016, this will be the fourth ENSCO 120 Series jackup rig that Ensco has ordered from Keppel FELS since 2011. As part of the contract, Ensco has an option to order another similar rig.
The ENSCO 120 Series rigs are based on the KFELS Super A Class, which is an enhancement of the proven KFELS MOD V-A Class jackup and features its proprietary and superior jacking and fixation system that has a perfect track record operating in a variety of environments. To date, over 2,800 jacks designed by Keppel FELS' Offshore Technology Development unit have been installed in the jackup rigs built to KFELS' proprietary designs.

The ENSCO 120 Series rigs can operate in water depths of 400 feet and drill to depths of 40,000 feet. It features advanced automated drilling systems with 2.5 million pounds of static hook load, a spacious deck and comprehensive amenities for the comfort of a 145-person crew. It also has an offline stand building capability to handle drill pipes efficiently, boosting overall rig performance and productivity.

For enhanced operational safety, the rigs are equipped with the latest pinion overload detection, rack phase difference detection, and brake failure and overload protection devices, thus meeting even the stringent Health, Safety and Environment (HSE) standards of various sectors in the North Sea.

Mr Tong Chong Heong, Chief Executive Officer of Keppel O&M, said, "We are pleased that Ensco, which has the largest fleet of premium jackup rigs in the world, continues to expand its fleet of harsh environment jackup rigs with Keppel FELS. It marks the strength of our reputation for providing proven rigs that are the best in class."