USS Abraham Lincoln Returns Home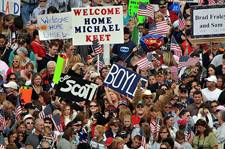 USS Abraham Lincoln (CVN 72) returns to its homeport of Everett, Wash., Oct. 12 after a seven-month deployment supporting Operations Enduring Freedom (OEF) and Iraqi Freedom (OIF) and maritime security and coalition operations in the U.S. 5th Fleet Area of Responsibility (AOR).
The total distance steamed during deployment was 58,370 miles, or approximately 2.3 times around the world. Electrical power generated during deployment totaled 52,000 megawatt hours, enough to power the entire downtown network for roughly two weeks. Fresh water produced totaled 58,240 gallons, enough to support more than 1 million showers for crew personnel.