USS San Francisco Undocks with New Bow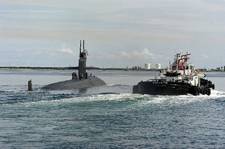 USS San Francisco (SSN 711) returned to the water on Oct. 10, 2008, after successfully undocking at Puget Sound Naval Shipyard and Intermediate Maintenance Facility (PSNS & IMF), a field activity of Naval Sea Systems Command (NAVSEA).
The dry docking resulted from the submarine's Jan. 8, 2005, collision with an undersea mountain. The challenging, one of a kind project involved PSNS & IMF cutting over one million pounds of ex-USS Honolulu (SSN 718) forward Ballast Tanks/Sonar Sphere and attaching it to the USS San Francisco. The engineering and production teams proceeded to manipulate the mammoth structure with orchestrated precision. In some areas, the bow of this massive structure was moved to within 1/16 of an inch of the original structure.
USS San Francisco returned to Apra Harbor, Guam, under her own power where a Pearl Harbor Naval Shipyard-led team of engineers and production personnel began the task of assessing the damage, dismantling the wreckage, designing and installing structural and mechanical repairs to prepare her for return to the mainland. This temporary repair was followed by an unprecedented 5,600 nautical mile open ocean submarine surface transit to PSNS & IMF.
The submarine entered dry dock at PSNS & IMF on Dec. 5, 2006, to begin the restoration period. In the early stages, the temporary bow of the was disassembled in place and the steel recycled. Later, PSNS & IMF was authorized to define and execute the complete availability to restore the rest of the ship's systems and bow restoration.
PSNS & IMF is one of four public shipyards that play a major role in maintaining 's fleet and providing wartime surge capability to keep the nation's ships ready for combat. Customer service is important in every business. For NAVSEA, serving our customers in the Fleet is our top priority.