Port of Vancouver Welcomes Maiden Voyage Filipinos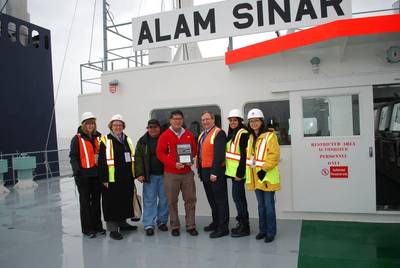 Port of Vancouver inform of the welcome given to the 'M/V Alam Sinar' commanded by Capt. Arturo A. Lobigas of the Philippines on the bulk carrier's recent maiden voyage arrival in the United States.
Lobigas and his 19-member Filipino crew were welcomed to Vancouver by representatives from Pacific Northwest Ship and Cargo, and Port of Vancouver USA.
The Port says that the Class NKK bulk carrier M/V Alam Sinar was built in Japan in 2014. and is owned by Grace Ocean Private Limited and operated by Malaysian Bulk Carrier. The vessel is 579 feet (176.5 meters) in length and has a deadweight capacity of 36,320 tons.

Before docking at the Port of Vancouver, the M/V Alam Sinar sailed from Takamatsu, Japan, then to the Port of Vancouver USA where she loaded approximately 6,000 metric tons of copper concentrate. The vessel will travel to Vancouver, B.C. and Campbell River, then to Akita and Nihama, Japan before its final stop at Isabel, in the Philippines.

In the picture, from left to right: Jennifer Brower and Julie Rawls for Port of Vancouver USA; Sandra Avila agent for Pacific Northwest Ship and Cargo; Capt. Arturo A. Lobigas; and Mike Schiller, general manager of operations, Sheetal Bali and Sheila Deng for Port of Vancouver USA

www.portvanusa.com