Stranded Vancouver Porpoise Released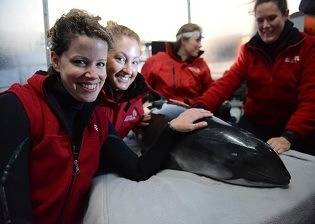 Tankship owners Teekay, who support the Vancouver Aquarium Marine Mammal Rescue Centre as part of their corporate sustainablility programme, announce the rehabilitation and release of a habour porpoise named Levi.
Levi was found almost five months ago stranded on the shoreline of Saanich Inlet, near the Vancouver Island in British Columbia, Canada. According the Vancouver Aquarium veterinarian, Dr. Martin Haulena, Levi had difficulties to swim his own, suffered from a serious lung infection and was suspected to have hearing problems.

The porpoise was brought to the Vancouver Aquarium Marine Mammal Rescue Centre for special treatment. He was put into a flotation sling to help him swim and was hand-fed nutrients. The veterinary team worked hard during the past few months to treat Levi's lung infection and provide him with the treatment to regain his strength.

After several months of rehabilitation, Levi displayed excellent improvements. He started to eat on his own, and tests showed Levi had a full recovery. He was then deemed ready to be released into the wild and was taken to the waters where he was found.

This harbor porpoise is the Vancouver Aquarium Marine Mammal Rescue Centre's first cetacean rescued and successfully released back to his home waters. A satellite-linked transmitter was attached to Levi to enable the Rescue Centre team closely monitor his progress.