Vard in Red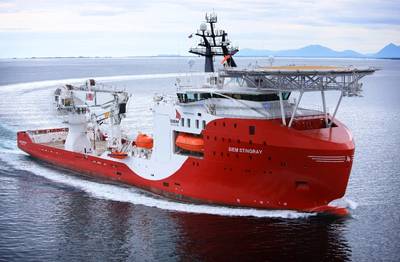 Offshore shipbuilder Vard Holdings reported a net loss of $40mln in the first quarter, on back of unrealized foreign exchange losses from a 15-year USD-denominated yard construction loan in Brazil.
Net foreign exchange losses in the quarter amounted to $37mln. The group did not secure any new orders in the quarter.
Consequently, order book value at the end of the quarter amounted to $2.8bln, representing a 28% decrease compared to the same period last year.
"We expect weak order flows to be a prevalent theme in 2015. To mitigate the effects of lower yard activity, we aim to streamline the cost structure of our business over the next few months,"
said Roy Reite
, ceo and executive director of Vard. The company described the competition as "fierce" for the limited number of projects under development in the market.
The Singapore-listed firm owned by Fincantieri said in its results statement that as well as reducing the size of the company's workforce, it would reduce the use of outsourced and subcontracted labour.
"A strict cost-cutting programme is being implemented, including reduction of overheads, reduced use of outsourced and subcontracted labour, and temporary and permanent reductions in the work force," Vard stated.
Despite not having any new orders, Vard said that utilization was good at its European shipyards, and that workload balance has been positively impacted by the extension of delivery dates on several projects.
Looking ahead, the group expects new order prospects to continue to be weak in the near and medium term.
The group said: "While
oil prices have
recovered somewhat from their lows in the first quarter, expectations for new investments by oil and oil services companies are much reduced, and OSV (offshore support vessel) fleet owners are suffering from temporary overcapacity in most segments and markets that Vard serves, resulting in unsustainable charter rates, idling of vessels and very limited demand for new projects.