The Impact of Lower Oil Price on LNG Vessels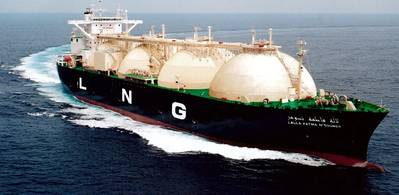 Opec study on the impact of lower oil price assumptions on the penetration of LNG vessels has released.
In light of the regulations on sulphur emissions issued by the IMO the prospect of using LNG as an alternative bunker fuel was explored.
It was concluded that LNG had the potential to become an important marine bunker fuel in the long-term.
This year the subject is re-considered in light of recent market and price developments, as well as the continuing uncertainty surrounding the implementation of new IMO regulations.
These new regulations are supposed to be implemented at a global level on all shipping vessels by 2020. It obliges shipping companies around the world to either install exhaust scrubbers or switch to more expensive low sulphur (0.5%) gasoil.
The use of LNG in marine bunkers could be a cost-effective alternative to addressing the new IMO regulations as it offers a chance for shipping companies to save on fuel costs. However, under the
current lower oil price environment
, the savings advantage of using LNG could be far less than anticipated.
The future price differential between LNG bunker fuel and low sulphur marine gasoil will remain the most convincing argument for shippers – especially when it comes to deciding on which technology to incorporate into the building of new ships.
Some of thesebunker projects represent large-scale investments – it is evident they could be put on hold if oil prices remain at low levels for a prolonged period of time.
At the same time, a new LNG ship costs about 15–20% more than a vessel that uses more conventional technology. Based on this, the possibility of retrofitting all currently existing shipping vessels to allow them to use LNG does not appear to be a realistic option.
In most cases, the extra financial costs involved, and the idle time required during such a conversion process, will be overly prohibitive for shipping companies.
A fundamental challenge facing the use of LNG bunkers is breaking the socalled 'chicken-and-egg' situation. It begs the question: what comes first? Should it be the development of a larger fleet of LNG-enabled ships (demand) or should it be the expansion of LNG bunkering facilities at major seaports (supply). It seems that the latter is taking the lead.
In fact, currently there are around a dozen or so small LNG bunker facilities available in the Baltic and North Seas. Bergen, Oslo, Stavanger, Turku, Zeebrugge and Stockholm are among the ports that currently offer LNG bunkering services.
These have enabled a moderate fleet of LNG ships to operate in the Baltic and North Sea region, where stricter IMO regulations of 0.1% sulphur content have already been implemented.
In the US, the ports of Los Angeles and Fourchon are also offering LNG bunkers. Similarly, Singapore has recently announced that it will start working on a LNG bunkering pilot programme in 2017 and expects to offer LNG bunkering in 2020.
Around 30 more international seaports – among them Antwerp, Hamburg, Bremerhaven, Le Havre, Santander, Fujairah, Buenos Aires, Zhoushan, and Busan – are all in the process of offering, or are planning to offer, LNG bunkering services in the future.
From the demand side there are also positive signs of increased confidence in the build-up of
LNG technology from
within the shipping industry.
Norway is taking the lead in the use of LNG for bunkering. In 2013, 40 Norwegian vessels were using LNG as fuel; and this number is set to increase in the coming years, fostered by governmentsupport. Costa Cruises, part of Carnival Corporation, recently announced that it had ordered four LNG-powered mega cruise ships to be delivered during 2019 and 2020.
Once in operation, these ships will offer the largest guest capacity of any cruise ships in the world, with virtually no particulates or sulphur emissions.
Another issue to consider is the fact that upcoming IMO sulphur emission rules for international waters are supposed to be implemented on a global level in 2020.
However, in 2016, these rules will be under review and there is a possibility that their implementation will be postponed until 2025. This element adds further uncertainty to the market.
Shippers will require more clarity about the nature of the new rules, particularly the timeframe in which they may come into force, before proceeding with their investment plans.
Additionally, some shipping companies may also prefer to wait until the IMO completes its review before making new orders. In addition, a lack of a clear path may mean that oil refiners are quite reluctant to commit to any major investment projects aimed at expanding low sulphur marine fuel capacities.
It can thus be concluded that LNG ships will only continue to increase their share in the marine sector slowly – as the supply and, to a lesser extent, the demand situation of LNG bunkers steadily improves, and as more experience with the technology is gained.
However,
lower oil prices
and continuing uncertainties about the future of LNG infrastructure and regulatory developments, alongside possible delays in the implementation of new IMO rules, adds uncertainty for market players and, therefore, will support conventional ship technology and the ongoing use of oil-based fuels in the future.