Sale of Two New AHT Supply Vessels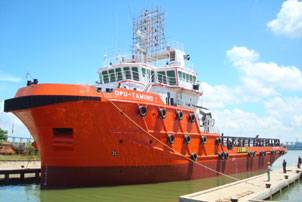 Marcon International, Inc. of Coupeville, Wash. is pleased to announce the delivery of two new DP-1, 5,150 BHP, 1,350 mt dw anchor handling tug supply vessels to Nigerian buyers.

Opu Tamuno 1 and Ibi Teme were constructed at Zhanjiang Haibin Shipyard in China. Initially the units were commissioned on speculation by the shipyard, and the buyers secured the vessels with over six months of work remaining on each. The sister vessels measure 58.7m x 14.6m x 5.5m depth and have a design draft 4.75m. Clear deck area measures 370m2 with a loading of 7mt/m2. Under deck capacities include 475m3 fuel, 230m3 water, 460m3 ballast, 255m3 liquid mud and 170m3 dry bulk. Each vessel is powered by a pair of CAT 3516B engines driving twin controllable pitch propellers in kort nozzles via twin Reintjes 7.455:1 gearboxes, creating about 65 tonnes of bollard pull and a free running speed of abt. 13.5kn at 100% MCR. For auxiliary power the two vessels are equipped with twin 350kW, 415V, 3 phase, 50hz diesel engine powered auxiliary generators plus one 65kW emergency generator. Each vessel comes equipped with a CPP bow thruster developing six tonnes of thrust.

Deck equipment includes a hydraulically driven double drum waterfall winch with 150 mt line-pull of the first layer, and a braking capacity of 200 tonnes. The drums are capable of stowing two reels of 1,000m of 56mm wire rope. To handle anchors and wires, Opu Tamuno 1 and Ibi Teme are fitted with 200mt SWL stern rollers, 200 tonne tow pins that extending 600mm above the deck in the fully extended position and one set of 200 tonne SWL shark jaws able to take 50mm to 75mm wire and 28mm diameter chain. Two 10 tonne electro-hydraulic tugger winches and a pair of five tonne capstans are also installed.

The vessels are equipped with full com / navaids including two radars, an echosounder, DGPS, WeatherFax, twin gyro compasses, a magnetic compass, autopilot, doppler speed log, AIS, GMDSS, VHFs, SART and a Navtex receiver. Twin 1,200m3/h fire monitors are located on top of the wheelhouse. Accommodations are provided for 42 persons in two single-berth, four two-berth and eight four-berth air conditioned cabins. Vessels are classed Bureau Veritas 1 +Hull +Mach "Supply Vessel & Fire Fighting Ship" Tug Unrestricted Navigation AUTCCS +DYMAPOS AM/AT (DP-1).

Marcon was sole broker in the transaction and is also pleased to offer from same Owners two new 5,150BHP, 50m AHTs; one 7,400BHP 75m AHTS and one 75m PSV.

Marcon International has sold a total of 9 vessels and barges to-date in 2010. Sales on several additional barges are pending.