Vestdavit Delivers Systems to German Navy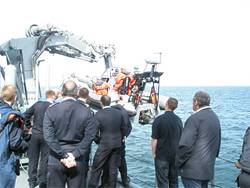 Vestdavit has now commissioned all eight PAPH-6000 davits delivered to the German Navy. The last three davits in the series were installed in 2012. Vestdavit teams commissioned the davits, participated in the sea trials and trained the crews of the German frigates. Feedback on the davits in operation has been very positive.
The PAPH-6000 davit comprises an advanced boat handling system with hydraulic painter boom, self-tensioners, hydraulic shock absorbers, docking head, and the davit is computer controlled for safe and efficient operation. For the German frigates it safely launches and recovers an 8.5 m RIB in sea state 6 with up to 15 persons on board.