Vibro-Lo VL Series of Needle Scalers Offer High Power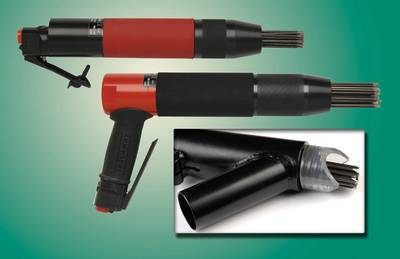 CS Unitec introduced a line of low-vibration needle scalers with an optional dust shroud. The Trelawny Vibro-Lo VL Series is designed for all surfaces – metal and masonry – to remove coatings and corrosion and clean other accumulated materials.
The VL Series offers seven times less vibration than traditional needle scalers, the manufacturer said. The internal air pressure is used to absorb the recoil and impact from the anvil and needles.
The lower vibration reduces operator fatigue, increases efficiency and helps to prevent injury. An optional dust shroud helps to maintain a clean working environment when the tool is attached to a vacuum.

The VL needle scalers are lightweight, easy-to-handle pneumatic units that provide up to 3,000 blows per minute. They are ideal for irregular surfaces that are otherwise difficult to prepare. Other applications include cleaning and stress relieving weld seams and steel joints. The tools can be converted to chisel scalers for splitting, chipping and pointing applications. The Vibro-Lo VL Series includes both pistol grip and inline handle designs. The VL203 and VL303 are designed with a pistol grip handle and have 19 and 28 needles, respectively. Model VL223 has an inline handle and is equipped with 19 needles.

Changing needles is quick and easy, requiring no additional tools. Needle variations include chisel or flat tips for light surface marking and pointed tips for very hard scale removal. Non-sparking Copper Beryllium needles are available for use in potentially hazardous environments. Stainless steel needles are offered for applications where corrosion or humidity presents a problem. The scalers operate at only 5.5 CFM of air consumption with vibration levels up to 2.3 m/s2.