U.S. Coast Guard Chooses Videotel on Demand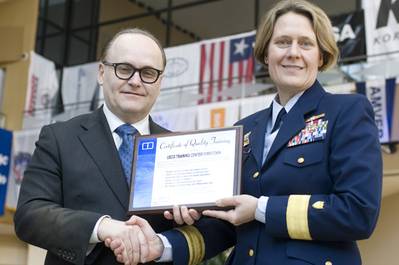 Videotel Marine International announced that the United States Coast Guard (USCG) in Yorktown, Virginia, which trains Port State Control Officers, has taken delivery of three Videotel on Demand (VOD) units.

The units are pre-loaded with top quality marine safety and operational training videos, computer-based training materials (CBT) and instructional courses. Comprehensive and interactive, the training material will be used by the USCG to augment existing Port State Control Office training.

"We are delighted to be supporting the USCG's efforts," said Nigel Cleave, CEO of Videotel. "Toward the end of last year, we worked with the U.S. Department of Homeland Security's Customs and Border Protection agency to develop a training program, which offered a new and updated approach to U.S. Port State Control. We welcome the opportunity to once again contribute to the training needs within this complex and important environment."

Videotel is the world's leading multi-media producer of high quality maritime safety training software and materials serving the international maritime community today. As well as its award-winning videos, programs and courses on board over 10,000 vessels, Videotel has the largest portfolio of maritime CBT materials in the world. With 800 titles and over 100 million training hours accomplished to date, Videotel is dedicated to promoting the learning of hundreds of thousands of seafarers across the world.