Viking Supply Ships Scoops PSV Pair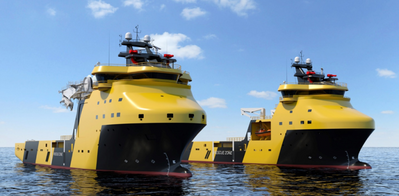 Swedish-based Viking Supply Ships (VSS) in partnership with funds managed by Borealis Maritime, has entered into a contract to purchase two platform supply vessels (PSV) currently under construction. In addition to the partial ownership, VSS has been awarded full operational and commercial management of the vessels, the company said.
VSS did not reveal specific transaction details, but said the pair has been acquired at a significant discount compared to original contract price and estimated new-build prices for similar assets.
The two new 89.2-meter vessels are of Wärtsilä VS 4411 DF design and will be completed by Remontowa Shipbuilding S.A. in Gdansk, Poland, scheduled to be delivered in the fourth quarter of 2020 and first quarter of 2021 respectively.
The DP 2 vessels feature duel fuel capabilities, meaning they can run on liquefied natural gas (LNG) or marine gas oil (MGO) and will also come fully equipped with a battery pack solution which will further reduce consumption and emissions.
The vessels have Ice-class 1C and are tailor-made for the North Sea and other harsh environment regions. VSS said the vessels will be Norwegian-flagged and marketed toward the Norwegian continental shelf (NCS).