USS Carl Vinson, Strike Group Return to San Diego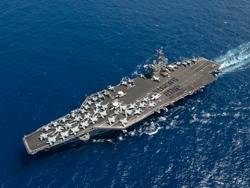 The aircraft carrier 'Carl Vinson' and its strike group returns to San Diego, wrapping up a six-month deployment
Carl Vinson is scheduled to arrive at Naval Air Station North Island in Coronado, 3rd Fleet officials said in a news release. The carrier last week stopped in Hawaii and took on more than 1,000 family members and friends for the "Tiger Cruise" home.
The air wing flew 6,600 hours and delivered 7,283 pounds of ordnance in supporting 1,085 missions in Afghanistan, according to 3rd Fleet.
"The successful completion of this deployment is a testament to the high quality of men and women who volunteer to serve in our Navy," Rear Adm. Thomas K. Shannon, who commands Carrier Strike Group 1 aboard Carl Vinson, said in a statement. "Whether supporting U.S. and coalition forces on the ground in Afghanistan, preventing piracy or taking on our Navy's tradition of ambassadorship during overseas port visits to Hong Kong, Dubai, India and Australia, our strike group sailors represented our country with great distinction and honor."
Carl Vinson, commanded by Capt. Kent D. Whalen, will wrap up its second deployment in 18 months. The carrier crew's 2010-11 deployment was notable for supporting the special operations mission to get Osama bin Laden in May 2011.