Vittoria Shipyard Delivers the "Rome Moscow" Tug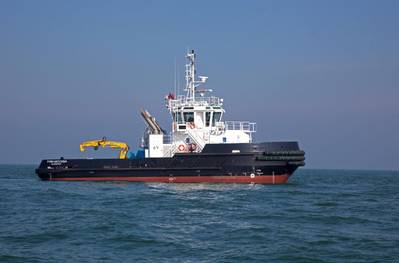 Starting from today, there is an addition to the fleet of the Russian Federation with the C.871 РИМ—MОСКВА (Rome C Moscow) tug, built by Vittoria Shipyard.
The company that specializes in the design and building military, paramilitary, work and commercial vessels has delivered to SevRao/RosRao the tug which is set to dismantle decommissioned nuclear submarines in the Barents Sea as part of the Aspect Konversia Project.
The official hand-over of the eight-milioni euro vessel, commissioned in 2016 by the Italian Ministry of Economic Development (MISE) as part of the collaboration agreements between the Italian and Russian governments relating to handling radioactive waste, took place in the Adria facility. The ceremony was attended by Luigi Duò, president of Vittoria Shipyard, and the representatives of the two Russian companies that will manage the boat.
The tug, which was launched in September last year, is expected to arrive in the city of Murmansk in June, and is capable of carrying out towing and pushing work in both harbors and the open sea, even when ice is present, specifically for floating docks that are part of the same project and that have already been built.
For the Adria-based shipyard, the РИМ—MОСКВА (RomeCMoscow) tug, together with the Cap de Fer which was delivered to the Harbor Authority in Skikda, in Algeria, represent the second C and historic C delivery of ASD (azimuth stern drive) tugs.The vessel has been designed and built to work at temperatures as low as minus ten degrees centigrade and to ensure, while moored in harbor over winter, heating for areas used by the crew for temperatures as low as minus 34; it has been built and checked in accordance with the regulations of the Russian Maritime Register of Shipping (RMRS); it meets regulations for onboard living and bathroom conditions for boats flying the Russian Federation flag, and has been classified ICE2. The tug, which is around 32 meters long, also has a bollard pull capacity of 65 tonnes and a dynamic pull of 54 tonnes, and can reach a speed of 12.5 knots because of the fast diesel engines that are linked to two azimuth drives with variable-pitch propellers.