Mercy Ships Honors Crew on World Volunteer Day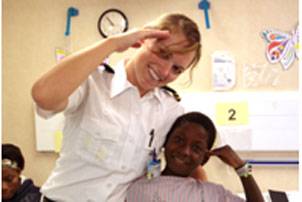 International Volunteer Day is a time to respect those individuals across the world who choose to spend time volunteering. This is a very significant day for Mercy Ships – a global charity that relies heavily on volunteers to fulfill its mission of bringing hope and healing to the forgotten poor of Africa. Its in-country services are provided by a volunteer crew that represents over forty nations. As an example of that spirit of volunteerism, Mercy Ships would like to salute one charming young woman from California who decided to take two months of her vacation to join Mercy Ships in transforming thousands of lives in Africa.

Amanda Wallace is a woman working in a man's world. She is employed by Chevron Shipping, working as Third Officer on a petroleum product tanker that sails along the U.S. West Coast and Hawaii. But her maritime job gives her a unique schedule with two months of vacation time. It was that free time that sparked her interest in finding a volunteer job with meaning.

"I was looking for a volunteer opportunity that would be positive in my life, where I could use my skills for the bigger picture…to help others. So it is God's will that I'm with Mercy Ships," said Wallace.

She served on the Africa Mercy as Second Officer. The ship serves countries in West Africa for a 10-month field service providing free health care to individuals who have little to no access to a doctor. Wallace's time with Mercy Ships was a welcome change from life onboard an oil tanker. Though her days were spent on the bridge of the hospital ship, almost every minute of her free time was spent interacting with the patients in the hospital. It was a great opportunity to use her skills to benefit a great organization, while also fulfilling her desire to help others.

"The type of humanitarian work that Mercy Ships does is incredible and deeply touching." Wallace is referring to how Mercy Ships follows the 2000-year-old model of Jesus. They take social outcasts and give them a chance at life by providing surgeries such as tumor removal, cleft lip and palate correction, and orthopedics, among others. Hundreds of hopefuls wait in extremely long lines to have a first-world surgeon examine them. Then, the decision will be made if they will receive a life-changing surgery.

Wallace believes volunteering for Mercy Ships has provided many benefits in her life—far beyond what she expected. "People would be surprised to know that an individual usually gets more out of volunteering than what they put in." She has made friends from all over the world and her life has been put into perspective.

Wallace submitted her volunteer time to the Chevron's employee volunteer matching program called Humankind. The company awarded Mercy Ships $1000. The donation was an added bonus to the gift of service Wallace has already provided Mercy Ships.

The heart of a volunteer is essential to the survival of Mercy Ships. The organization's unique model of having a volunteer crew is somewhat astounding. Mercy Ships appreciates every volunteer – from the cooks to the surgeons to the engineers. Their passion and dedication to the mission of Mercy Ships is the heartbeat of the organization. Wallace is one of the thousands of volunteers who make it happen.