Volva Penta Helps Coast Guard Save Fuel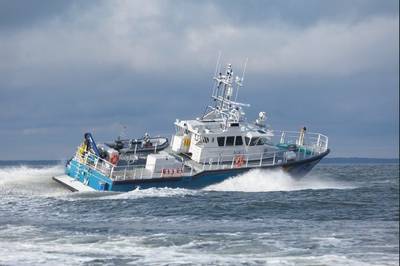 The first in a series of 5 Swedish-flagged patrol boats, 'KBV312' equipped with a Volvo Penta IPS 1050 propulsion system arrives in home port
With its Volvo Penta's innovative propulsion system the ships are to reduce fuel consumption by approximately 30% compared to traditional installations.

To give the vessel the best overall performance the highly efficient Volvo Penta IPS 1050 complete propulsion system was selected. The system consists of triple Volvo Penta IPS 1050 based on 3 x D13-800 rated at 588 kW each, giving total propulsion power of 1764 kw. with 3 x IPS 3 fully integrated pod units ( gearbox, exhaust system, rudder and steering machinery). 


The very low fuel consumption over the whole speed range is creating great cost savings for the Swedish Coast Guard and with reduced CO2 and NOx emission; the environmental impact will be reduced. The engines are already meeting the EPA tier 3 emission levels in force 2014. The system is type approved by DNV.

During test trials the vessel reached a speed of 32 knots fully loaded and the time to accelerate from idle to 20 knots was only 7.5 seconds.

The steerable IPS pod units with forward facing contra rotating propellers give good grip in the water without slip and create an active rudder control with all thrust pointing in the desired direction.
Good grip and low end torque create good acceleration in all sea conditions and allow the vessel to steer sharply without cavitation and loss of speed.


The combination of twin turbo engine and Volvo Penta Duoprop technology gives the vessel a very good bollard pull, above 10 tons, which will be very useful in search and rescue operations.

Main data of the vessel: 
LOA 25.5 m, Max Beam 6,2m, Draught 1.5m. Full load displacement 52 t. Total power 1764 kW, Speed at full load 32 knots, Range > 600Nm