W&O Breaks Ground on New Headquarters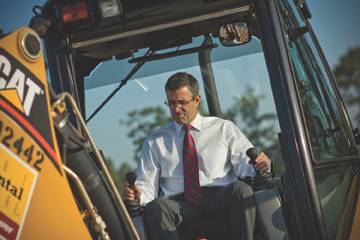 W&O has broken ground on its new corporate headquarters in The building will be the first L.E.E.D. New Construction-certified (Leadership in Energy and Environmental Design) commercial warehouse in .

During the morning hours, W&O CEO Jack Guidry climbed aboard a Caterpillar backhoe and with a giant gold scoop, broke ground with the Jacksonville-based W&O employees cheering him on. W&O was also joined by several city officials, including Jacksonville Mayor John Peyton and Jacksonville Chamber of Commerce representative Jerry Mallot, executive vice president of Cornerstone, a development partnership of the Chamber.
In the past, the maritime industry was based on small companies that operated in just one port. Progress and changes in the maritime industry have demanded more of us – and we have responded with more advanced systems and solutions, pointed out Guidry. "Our team has developed the knowledge and expertise – and, I'm proud to say, W&O continues to grow and evolve to meet our clients and customers needs and exceed their expectations," he said.

The new corporate W&O headquarters will be at the minutes from JAXPORT, an international trade seaport in . JAXPORT has multiple cargo terminals capable of handling container, automobile, bulk, break-bulk and refrigerated cargoes, including the recently announced Mitsui O.S.K. Lines, Ltd., as well as cruise passenger service. W&O will have quick access to the major transportation centers of , including JAXPORT, , and the major transportation arteries of the region.

The new W&O headquarters will be constructed with reinforced concrete tilt walls and will be one of the premiere combined office/warehouse spaces in the region. As the first L.E.E.D. New Construction-Certified Commercial Warehouse in , W&O represents a first in the local business community to accelerate sustainable green building and development practices in this rapidly growing commercial region. LEED is a third-party certification program and the nationally accepted benchmark for the design, construction and operation of high performance green buildings, promoting a whole-building approach to sustainability by recognizing performance in five key areas: sustainable site development, water savings, energy efficiency, materials selection and indoor environmental quality.

When completed in May 2009, W&O's new corporate headquarters will be two stories and include office and warehouse facilities. Combined, W&O's future home will be more than 82,000 square-feet and house more than 70 employees.

Bill Spinner, President of Group IV Development, is building the new headquarters. Property negotiations were handled by Bob Selton and Matt Entriken of Colliers Dickinson commercial real estate, also based in . Jamey Huser with RS&H provided the L.E.E.D. consulting expertise.