Warship Escorts Russian Task Force on UK Coastal Passage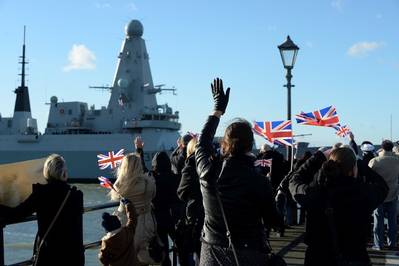 'HMS Defender' has returned to Portsmouth after escorting a number of Russian ships along the UK coastline over Christmas and the New Year.

As the fleet ready escort, HMS Defender was on duty as the Royal Navy's high readiness warship over Christmas and the New Year, ready to respond to a wide range of short notice tasks from search and rescue duties to maritime security patrols.

The Portsmouth-based destroyer sailed through high sea states and storm force winds to the north of mainland Scotland to meet the group of 6 vessels. Due to bad weather, the Russian fleet anchored in the Moray Firth before heading down the east coast of the UK. As a sign of the friendship between the two Navies, goodwill messages were exchanged between the ships on New Year's Eve.

The Minister for International Security Strategy, Dr Andrew Murrison, said: "As a maritime nation, the security of the seas around our coastline remains vital to our national interests. This tasking has demonstrated the Royal Navy's enduring commitment in home waters and readiness to undertake tasking at any time of the year."

HMS Defender's operations officer, Lieutenant Commander Mark Mason, added:
"This high readiness tasking demonstrates the Type 45 destroyer's flexibility and agility.
These highly capable warships are prepared for high-end war-fighting, but are equally adept at conducting interdiction operations, disaster relief missions and patrolling the nation's coast line."