Indian Warship Begins Sea Trials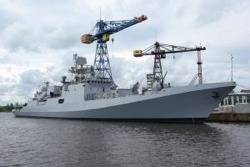 The second of three frigates being built for Indian Navy by JSC Yantar Shipyard (Kaliningrad, Russia) has begun its sea trials program
INS Tarkash (serial number 01355) is the second Project 11356 frigate of a three-ship series ordered by India for its navy. The lead ship – INS Teg (F45) – was handed over to the customer on Apr 27, 2012 and is currently heading for her homebase Visakhapatnam.
According to the ship's construction manager Sergei Schugorev, "the trials program is pretty eventful. The ship is to be delivered in October, so we have an array of works to do. We've made an hourly working plan for the first sortie; it includes tests of main propulsion plant, heading at different speeds, checking of stabilizers and life-support systems in service".
Project 11356 frigates were developed by JSC Severnoye Design Bureau and are built by Yantar Shipyard in accordance with a contract signed in July 2007. The agreement requires the construction of three frigates for this project. INS Tarkash was laid down in Nov 2007, and the third frigate – INS Trikand (F47) – was keel-laid in June 2008. Cost of the full three-ship series is about US $1.5-billion.