Warship Gives Maersk 'Triple-E' Safe Passage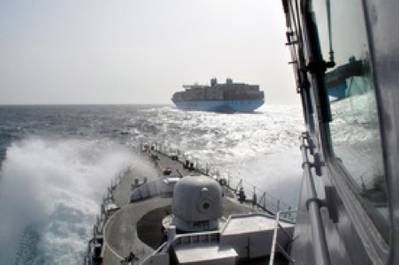 The Dutch Frigate 'HNLMS Van Speijk', part of NATO's counter-piracy Operation Ocean Shield, ensured the safe passage of the 'Maersk McKinney Moller' on maiden transit through the Gulf of Aden.
The 400-metre long, 165,000 ton commercial ship is on its maiden voyage from Asia to Europe. NATO's counter-piracy efforts, in conjunction with other maritime forces operating in the region, help ensure the free flow of commercial trade through the Gulf of Aden and Indian Ocean.

The Van Speijk, is one of three ships currently part of the Alliance's counter-piracy mission. The ships maintain a high level of vigilance off the Horn of Africa, despite the fact that the last successful pirate attack happened more than a year ago. The NATO operation is currently being led by Norwegian Commodore Henning Amundsen. The other two ships in the mission include the HNOMS Fridtjof Nansen and the USS De Wert which joined the operation on 2 August 2013.