UK Warships at Recent Doha Expo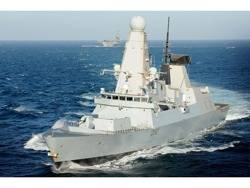 HMS Daring stars in Middle East naval showcase
Daring, Britain's most advanced warship, is on her maiden deployment. She was joined by minehunter HMS Quorn in Qatar recently at the Doha International Maritime Defence Exhibition and Conference (DIMDEX).
DIMDEX is the only exhibition focused on naval forces and coastguards in the Middle East and North African region. It attracts warships not only from those regions, but also from across the world; joining Daring and Quorn alongside were vessels from Australia, France, India, Morocco, Oman, Pakistan, Saudi Arabia, Turkey, and the USA.
With Britain's most advanced warship making her debut in the region, and at the show, Daring was considered the centrepiece of the exhibition and received visits from many British VIPs, including the Fleet Commander, Admiral George Zambellas.
HMS Daring is now approaching the halfway stage of her maiden deployment, seven months east of Suez under the Combined Maritime Forces undertaking a wide range of maritime security operations including tackling piracy, smuggling, people-trafficking, terrorism and other criminal activities - as well as working with coalition and regional allies.