China Warships Patrol Far Off Southern Island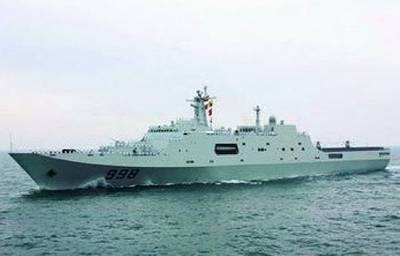 China Navy's Nanhai Fleet flotilla is patrolling the Zengmu Reef, the southernmost part [of what it considers to be] the country's territory, and those on board the 3 ships took a ceremonial oath to safeguard sovereignty, reports Xinhua.

The Zengmu Reef is a key maritime traffic juncture as well as a strategic spot. The Chinese navy patrols the area, about 50 miles off the coast of Malaysia on a regular basis. Known in English as James Shoal, the reef is claimed also by Malaysia, and the Republic of China (Taiwan).

The three-ship flotilla consists of amphibious landing craft Changbaishan and destroyers Wuhan and Haikou, says Xinhua citing military sources.
During the ceremony held in the Zengmu Reef area, soldiers and officers aboard swore an oath of determination to safeguard the country's sovereignty and maritime interests. Xinhua informs that Fleet Commander Jiang Weilie urged soldiers and officers to always be prepared to fight, improve combat capabilities and lead the forces to help build the country into a maritime power.

Source: Xinhua