Waryas Receives Lauren S. McCready Award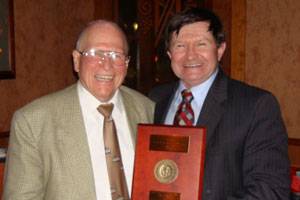 Ed Waryas, Vice President & Marine Development Manager for Lloyd's Register North America, Inc. has received the Lauren S. McCready Award for 2009. This award is presented annually by the U.S. Merchant Marine Academy Alumni Association for "Outstanding Naval Architecture or Marine Engineering Contributions to the Maritime Industry." The award recognizes alumni who are members of the Society of Naval Architects and Marine Engineers (SNAME) and who have made significant technical achievements possible. It is named for Rear Admiral Lauren S. McCready, longtime Head of the Engineering Department at the U.S. Merchant Marine Academy at Kings Point, N.Y.

Waryas is the 43rd recipient of this award. Past winners have included industry leaders such as Warren G. Leback, past U.S. Maritime Administrator, Ellsworth Peterson, Chairman of the Board of Peterson Builders, Eugene K. Pentimonti, Vice President of Government Affairs for Maersk Sealand, and Robert P. Magee, Chairman and CEO of the American Shipping Group, among others.

The presentation took place on October 23, 2009, at the United States Merchant Marine Academy Alumni Reunion Dinner, which was held in conjunction with the SNAME Annual Conference in Providence, R.I. Introducing and presenting the award was Dr. Walter M. Maclean, the recipient of this award in 1968. The keynote speech at the dinner was given by Charles Cushing, Chairman of C.R. Cushing and Company.

Waryas graduated from the U.S. Merchant Marine Academy at Kings Point as a marine engineer and obtained his Master's Degree in Transportation Management from the State University of N.Y. at Fort Schuyler. Waryas's career began at Mobil Shipping and Transportation Company and includes sailing as a USCG engineer, a product tanker construction superintendent in Finland and Germany, and as a chairman of the bow loading coordination committee that developed the offshore loading system in the North Sea's Statfjord Field. As Director of Business Development for MAN B&W Diesel, Waryas was instrumental in the re-powering of the QE 2 from steam to diesel. Waryas was also Director of Commercial Marketing at Newport News Shipbuilding where he helped develop the design concept for the Double Eagle product tanker and secured the first foreign tanker order for a US shipyard in nearly 40 years.

In his role as Marine Development Manager, Waryas is responsible for implementation of Lloyd's Register North America's corporate business development plan. Waryas is the Secretary of Lloyd's Register North America's USA Advisory Committee. He also represents the organization at the API's Marine Committee, the Chamber of Shipping of America, the Marine Highways Cooperative, the North American Marine Environmental Protections Association, and Intertanko's North American Panel. Waryas is a member of SNAME and the Society of Marine Port Engineers.