USS George Washington Off on Sea Trials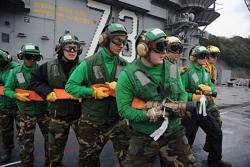 USS George Washington (CVN 73) leaves Fleet Activities Yokosuka, Japan, for sea trials in preparation for next patrol
After working alongside craftsmen from the Puget Sound Naval Shipyard and Ship Repair Facility Yokosuka to complete routine maintenance to the Nimitz-class aircraft carrier, Sailors will now put the ship through a series of tests before going underway.
George Washington sailed from its Truman Bay pier into open waters to begin a certification process that will ensure the ship, its equipment and crew are ready for extended periods at sea.

"We're ready to execute sea trials," said Capt. David A. Lausman, George Washington's commanding officer. "This is an all hands evolution and we have the most professional Sailors who thrive on 'by the book with the book open' operations. They will execute the mission meticulously."

"This is an exciting day," said Cmdr. Wes McCall, George Washington's navigator. "It's been six months since we were last underway so it's great to be heading back out where we belong."

Before leaving port, crew members participated in two simulated days at sea to begin the testing period and to get in the right mind set for the anticipated patrol. In 2011, George Washington safely navigated 55,000 nautical miles across the western Pacific.

Sea trials will test every system, every procedure and every piece of equipment. Tests will include opening and closing hangar bay doors, raising and lowering aircraft elevators, testing internal and external communication systems, as well completing each department's unique check-off list to ensure mission readiness.

George Washington's permanently-forward presence and mission enhances security and stability throughout the Western Pacific by working with allies and regional partners on a wide range of issues and responding to any tasking across the operational spectrum as directed.

George Washington is the flagship of the George Washington Strike Group.