Washington State Ferry Crew Save Passenger from Sea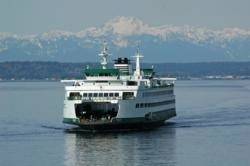 Marine Engineers' Beneficial Association (M.E.B.A.) engineers worked with deck officers and cabin crew in 'Man Overboard' emergency
Following a recent routine departure from Seattle, WA, the Washington State Ferry's (WSF) M/V WENATCHEE was steaming across Puget Sound to Bainbridge Island. when two passengers notified the Captain that they saw a woman go overboard. Immediately, he broadcast a "Man Overboard" alert and the crew began rescue efforts.
The M/V WENATCHEE's deck crew prepared the rescue boat for immediate launch. The deck and cabin crew prepared the first aid response, handled crowd control of the vessel's several hundred passengers, and located the missing woman's husband.
Out of the passengers, two Bainbridge Island doctors identified themselves to the mate along with a nurse, an EMT, a police officer and the Bainbridge Fire Chief. They all offered to help administer first aid and contacted emergency personnel on shore. During the incident, the deck crew instructed M.E.B.A. engineer, Greg Poor, to take control of the rescue boat operations.
The ferries M/V TACOMA and M/V YAKIMA heard the M/V WENATCHEE's radio distress calls on the company channel. Both ships immediately diverted from their scheduled runs to assist in the search. At WSF Headquarters the Operations Watch Supervisor began making notifications and coordinating the shore-side response.
A young child passenger aboard the M/V WENATCHEE spotted the woman floating in the water and she was brought back on board by the resue boat then taken to hospital. It was not known whether the woman jumped from the ferry or accidentally fell.