Dometic Sea XChange Watermaker Launched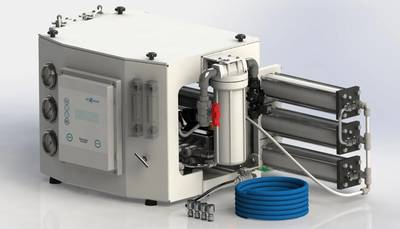 Dometic Marine launched the Dometic Sea Xchange Sea Water Reverse Osmosis system following the confirmation of an exclusive worldwide marketing agreement with Spot Zero Reverse Osmosis Inc. of Fort Lauderdale, Fla., USA.

Under this agreement, Dometic said it will market and sell Spot Zero watermakers as it expands its presence in the fresh water and sea water reverse osmosis systems marketplace.

Using a conventional reverse osmosis process to convert sea water into potable (drinking) water, the Dometic Sea Xchange is suited for a range of commercial and workboat applications. The system allows vessels to stay at sea for longer periods without water supply concerns, providing flexibility and reassurance when travelling to destinations, or visiting ports, which cannot provide reliable drinking water.

Joe Pinto, a national authority on fresh water and sea water reverse osmosis systems, was appointed by Dometic earlier this year as National Account Manager – Reverse Osmosis Systems.

He said, "In general, people are becoming more aware of water quality, both on board and on land, so technology that has been historically used for land-based applications is now being used on board as well. Globally, reverse osmosis, and the ongoing refinement of this process, is the trend. For most commercial and workboat applications where there will be generators running on board anyway, it makes logical and economic sense to utilise the existing power plants to generate fresh water. Also, from a cost standpoint, since generators are already running for other applications on vessels, using them to run watermakers at the same time means that there is no additional cost for powering the watermakers."

The new Dometic watermaker comes in four models: the SX600, with a daily capacity of 2,726 litres a day (600 gallons), the SX1200 which is capable of producing up to 5,455 litres (1,200 gallons), the SX1800 8,182 litre system (1,800 gallons) and the SX2200, capable of up to 10,000 litres a day (2,200 gallons). Each unit is 47cm x 122cm x 61cm with weights ranging from 65 kg for the lowest-capacity SX600 unit to 80 kg for the high capacity SX2200 unit.

"The addition of quality, reliable watermakers to our product offering allows our customers to operate their vessels more efficiently as there is no need to carry heavy, fresh water supplies," said Paul Hickinbotham, Director EMEA - Sales and Administrations & Commercial Division, Dometic. "Less weight means less fuel consumption and the ability to create safe, fresh drinking water and ice, as and when required, allowing operators to take longer trips or work in more remote locations."

Julien Lefeuvre, Dometic Marine Head of Marine OEM - EMEA Dometic, commented, "Spot Zero's reverse osmosis systems are exceptionally compact, robust, quality products and we are delighted to be adding their range of fresh and seawater systems to the Dometic range of innovative products and installations."

A 2,200 gallons per day reverse osmosis watermaker will be among the Dometic products on display at this year's Offshore Technology Conference 2014 (OTC) from May 5-8 in Houston, Texas.