WaveSentry Sea-State Project in Progress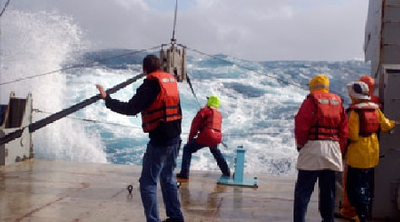 Chelsea Sensor equipment to be fitted to French ferry to progress WaveSentry sea-state forecasting project.

Novel sensors, provided by the Chelsea Technologies Group are to be fitted to a cross-channel ferry to collect vessel motion data as part of the WaveSentry project which is being managed by Marine South East. This motion data will be processed to derive certain indirect sea-state measurements which will be merged with a range of other data feeds within the WaveSentry sea-state measurement and forecasting system.

Chelsea Technologies Group are specialists in the production of a range of innovative sensors & systems for use in the oceanographic environment. As part of the WaveSentry project the sensor box, provided by Chelsea Technologies, will be fitted to a Transmanche ferry, the Seven Sisters, which crosses the channel daily. The data collected from the ship will be relayed to the shore and analysed using software from WaveSentry collaborators, QinetiQ to infer the sea state from the ships motion throughout the crossing.

The data collected will be logged against the GPS position of the ship and will be merged with additional data streams by HR Wallingford, to enable much more accurate 'nowcasting' and forecasting of sea state including wave height, period, direction and steepness. This information should greatly assist the many marine operations (such as shipping, offshore oil platforms, maintenance boats and renewable energy projects) who are dependent on high quality information on sea-state for economic and safety decision making. Sea-state information currently available, is based only on atmospheric/ocean models and lacks sufficient temporal and spatial resolution. Wave conditions are always changing and can vary tremendously over just 100km, or over a period of a few hours. Operators need to know what current conditions are before commencing an operation.

The real-time ship data being collected by the Chelsea Technologies sensor on the Transmanche ferry should substantially enhance the data sources available to give more accurate sea-state predictions to multiple end-users. The sensor box fitted to the Seven Sisters ferry and will collect data for a period of around a year. WaveSentry was conceived and developed through Marine South East's MEREX Knowledge Network and has secured co-funding from the Technology Strategy Board. The aim of the project is to develop a new information and forecasting tool for managing the risks of marine operations in adverse sea states.