HHI's New Weather System Helps Plan Sea Trials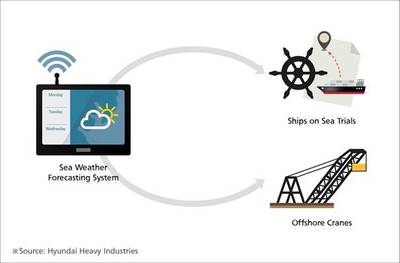 A new system has been developed by South Korean shipbuilder Hyundai Heavy Industries (HHI) to help better manage sea trial schedules for vessels built at its Ulsan yard.
The new Sea Weather Forecasting System, developed by HHI in collaboration with Korea Institute of Ocean Science & Technology (KIOST), analyzes sea weather information such as wave height, wind speed and current patterns on an hourly basis in seven offshore areas including Ulsan, Gunsan and Jeju Island to manage the shipbuilder's sea trials schedules up to 72 hours in advance.
The weather system aims to minimize possible delays in lifting work of the floating crane due to unexpected weather conditions through precision forecasting of the sea weather by every 60 meters in Mipo Bay and Jeonha Bay where HHI is based. The geographic information system (GIS)–based system can also display sea weather information on the specific spots on an electronic navigational chart.
"The weather forecasting system we developed is linked to 530 weather observation equipment across the nation and it can forecast 10 percent more precisely than other existing weather systems by analyzing adjacent sea topography 16 times more accurately," according to an HHI official.
Since 2006, HHI has been operating Weather Management by installing weather observation equipment at 18 spots at its Ulsan yard to monitor the weather on a 24-hour basis, and reporting the weather analysis to its employees.