Weeks Marine Gains First SubM COI in New York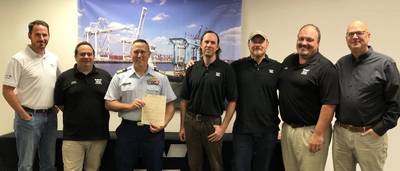 On September 5, 2018, Weeks Marine, Inc. (WMI) was presented with the first issued Certificates of Inspection (COIs) for achieving full compliance with new USCG "Subchapter M" regulations on the 2,000 HP Tug Elizabeth and the 3,000 HP Tug Katherine. Commander Jacob Hobson from Coast Guard Sector New York Waterways Branch presented the COIs to Ronnie Clifford, WMI Towing Compliance Officer, and Shaun O'Brian, WMI Towing Sr. Port Engineer.
The new Subchapter M mandates, part of the US Coast Guard and Maritime Transportation Act, ensure federal compliance standards across the maritime industry, and regulate the inspection, standards, and safety management systems of all Uninspected Towing Vessels. Many of the new requirements took effect on July 20, 2018, and will follow a five year implementation schedule.
"This was a monumental occasion for Weeks Marine," said WMI Towing Manager, Captain Benjamin Peterson, "and marked the culmination of months of hard work from both Ronnie and Shaun." Weeks Marine worked in unison with Sector NY and ABS (a third-party auditor) to get both tugboats through the rigorous inspection process.
Captain Peterson added, "WMI had been preparing for Sub – M, and the preparation was evident - Bravo Zulu to Shaun, Ronnie, and the crews of Tugs Katherine and Elizabeth!"