Heerema Deliver Two Wellhead Jackets in Record Time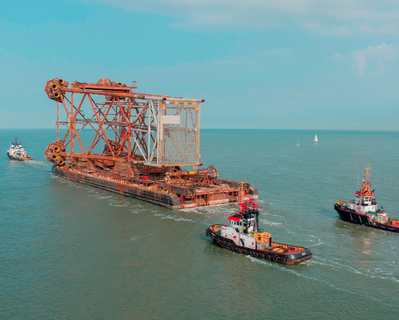 With the departure of Nexen's 6,400 tons PUQ (Production Utilities Quarters) jacket from the Heerema Vlissingen fabrication facility, Heerema Fabrication Group has completed the fabrication project of the two jackets for the Golden Eagle Development project in the UK sector of the North Sea, approximately 43 miles (70 kilometers) northeast of Aberdeen. 

Heerema Fabrication Group won the contract for parallel fabrication of two jackets and piles for the Golden Eagle Development project in October 2011. Fabrication of the jackets, both with a length of 130 meter and a footprint of 45 x 45 meter, started in February 2012. It is the first time that Heerema Vlissingen has fabricated two large jackets at the same time in only 18 months.


"Building two jackets simultaneously of this size is a logistic challenge to get everything prepared and on schedule. Jacket construction requires a lot of hoisting and building in parallel results in increasingly lifting activities on our Vlissingen yard. Thanks to our dedicated and experienced people we have successfully completed the construction timely and without any Lost Time Incidents over a total of 400,000 man hours. An achievement for a challenging project of this complexity and fabricated in a very short period", says Wim Matthijssen, Chief Operating Officer of Heerema Fabrication Group.

The Golden Eagle development, a £2 billion (C$3.3 billion) investment (£750 million or C$ 1.2 billion net to Nexen), is expected to produce an estimated 140 million barrels of oil equivalent (gross) of proved and probable reserves over an 18-year period. First oil production is forecast for late 2014 and the development is expected to have an initial gross production rate of up to 70,000 barrels of oil equivalent per day (boe/d) about 26,000 boe/d net to Nexen).