ABS' Wiernicki Addresses SUNY Maritime Grads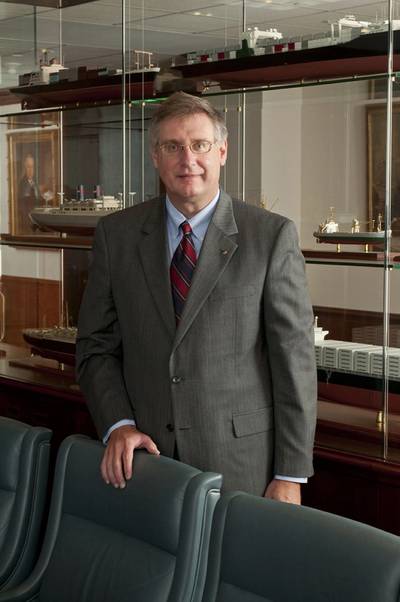 Christopher J. Wiernicki, Chairman, President and CEO of ABS, addressed State University of New York (SUNY) Maritime College graduates, their families, faculty members and guests at the college's commencement ceremony on May 6.
"I am honored to share real leadership lessons that these bright graduates may apply beyond the boardroom," Wiernicki said at the ceremony, which saw approximately 300 students graduate inside Fort Schuyler. "Success in life and leadership go hand-in-hand. While there is no substitute for experience and learning from mistakes, everyone can be a leader."
Wiernicki's remarks to the college's 2016 graduating class shared personal insight into his father's success and quiet leadership, from challenges as a prisoner in Auschwitz-Birkenau during World War II to humbling success following his escape from the concentration camp and ultimate emigration to the United States. Wiernicki focused on leadership lessons that may be applied no matter the situation one faces in life, highlighting the values of integrity, perseverance, hard work, relationships, focusing on the future and placing respect and dignity as the cornerstone of any leadership philosophy.
"Over the years, ABS has been a valued friend to the college in its support of our students and faculty," said Rear Adm. Michael Alfultis, President of SUNY Maritime College. "It's an honor to have Chris Wiernicki at our spring commencement as a way of acknowledging all ABS has done, and continues to do, to help maritime education."
During the ceremony SUNY Maritime also awarded Wiernicki with an honorary Doctor of Science in recognition of his professional achievements and contributions to the school. In addition to his role leadership at ABS, Wiernicki is also Chairman of the International Association of Classification Societies. He previously held several senior roles at ABS, including President and Chief Operating Officer (COO), Chief Technology Officer, and President and COO of ABS Europe Ltd.
Wiernicki holds a Bachelor of Science in Civil Engineering from Vanderbilt, a Master of Science in Structural Engineering from George Washington University, where he was later elected to the George Washington University Engineering Hall of Fame, and a Master of Science in Ocean Engineering from Massachusetts Institute of Technology (MIT). He has authored numerous papers and lectured at the university level. Wiernicki is a Fellow with the Society of Naval Architects and Marine Engineers. In 2013, he was awarded the Vice Admiral Emory S. Land Medal for outstanding accomplishment in the marine field. Wiernicki also serves on the
Board of Trustees
for the Seamen's Church Institute, serves on the Engineering Advisory Council for the University of Michigan's College of Engineering, is a member of the Board of Trustees for the Webb Institute, serves on the National Advisory Council of the George Washington University School of Engineering and Applied Science, and serves on the
Advisory Committee
for the Department of Ocean Engineering at MIT.